Are looking for a fun sports society? Then you should definitely come and meet us! On Thursday the 7th and 14th of September between 20.00 and 23.00 o' clock there will be Open Club evenings at Olympos. We'll play fun games and we can get to know each other! We'll tell you all about the fun activities and events that we do together. And after a good game of squash we'll go to the sports cafe, where we we'll enjoy a beer or two, or three, or four…
Players of all levels are welcome. Whether you have been playing squash for years, or if you  have never even held a squash racket in your hand.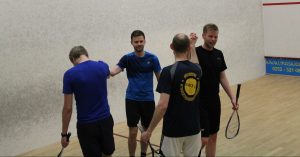 We'd love to get to know you and hope to see you there!